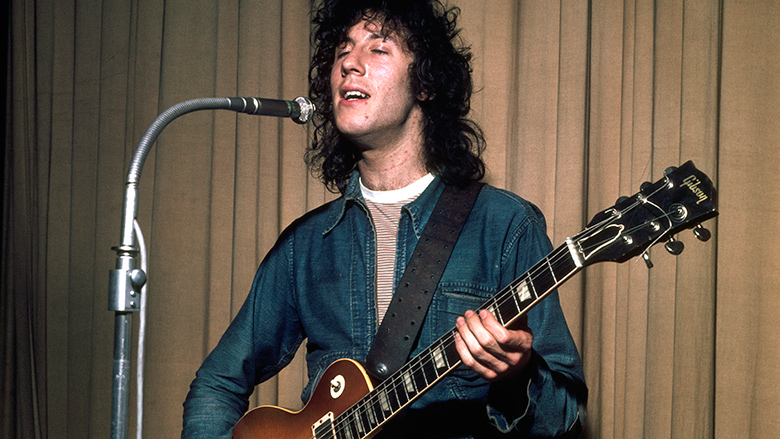 Written by Buck Curran
Eric Clapton, during his tenure in John Mayall's Bluesbreakers in 1966, is often credited with being the first musician to play searing blues-inspired solos with his Gibson Les Paul plugged into a Marshall running at maximum volume. Indeed, Clapton's solos would, in turn, inspire thousands of guitarists the world over.
However, in retrospect, a revelation has occurred with the emergence of many historic live-bootleg recordings (between 1967 and 1970) that have been shared on YouTube since 2007. That revelation is British guitarist-singer-songwriter Peter Green—founder of Fleetwood Mac, and Clapton's direct replacement in the Bluesbreakers by the end of 1966. Revealed and documented within these archival recordings are some of the most brilliant, emotive, melodic, and bluesy improvised guitar solos ever played during the 1960s, giving proof that Green's playing rivaled the work of Clapton.
It was also during this period that blues Legend B.B. King gave one of his highest praises, saying about Green: "He has the sweetest tone I have ever heard. He was the only one who gave me the cold sweats."
From what exists on these live recordings, it's easy to see why King felt that way. From blistering runs to the most soulful melancholic sustained notes, Green had it all.
Of course, over the years, many have focused on the musical union between Green and his "Holy Grail" 1959 Les Paul with its modified neck-position humbucker that gave him enhanced dynamic control over the tones he created. And though this is a technical fact, if you really take the time to listen, what you will discover is the sound of pure musical intuition—Green's heart and soul being bared, and soaring through the medium of his guitar.
Some of Green's earliest (and best) live work with John Mayall can be heard from the recording of Mayall's show at the Manor House in 1967 (recently released as John Mayall's Bluesbreakers Live in 1967). His ferocious virtuosity on "So Many Roads" and "Stormy Monday" is on perfect display during that show, as Green (only 21 at the time) can be heard unleashing torrents of emotion through his '59 Les Paul. As the concert evolves, Green becomes a paramount of fire and grace, playing as if his life depended on every note. Perhaps his fiery display was intended to break through the looming shadow of Eric Clapton—a shadow created by fans of Clapton who were quite hostile at the thought of someone trying to replace their guitar god.
Green's tenure with the Bluesbreakers was certainly a critical union with Mayall—especially in the wake of Clapton's departure—as it helped establish Green, and resulted in the seminal album A Hard Road (February 1967). Unfortunately, their union was to be short-lived. By July 1967,  Green left Mayall's side to form his own band, Fleetwood Mac, with bassist John McVie and drummer Mick Fleetwood. A career move, which by the end 1968, turned gold, as Fleetwood Mac would become the reigning young royalty of the British blues-rock scene (even outselling the Beatles with their hit instrumental "Albatross").
Despite his new-found success, it wasn't long before Green began to feel frustrated again, as he began moving artistically and creatively beyond pure blues. In the years between 1968 and 1970, Green would develop musically in glorious ways. He forged ahead to create the mystical and unique songs "Black Magic Woman" and "Oh Well, Part 1" from Fleetwood Mac's 1969 album, Then Play On.
Fortunately, Green never seemed to lose his special connection with the blues, as some his absolute best solos were improvised over B.B. King covers: "Got a Mind to Give Up Living/All Over Again" (recorded live at The Warehouse, New Orleans on January 31, 1970, while the band toured with the Grateful Dead) and "Let Me Love You" (from the Boston Tea Party in February 1970). Green could also be considered a pioneering father of heavy metal with his dark and brooding composition "Green Manalishi" (also from Then Play On). There are several live versions of "Green Manalishi" that exist, but the improvised solo he played at the Roundhouse Chalk Farm in London, England on April 24, 1970 is epic in the way his solo evolves, with each passing phrase, both melodically and passionately, he can be heard reaching new heights of feeling and expression on the guitar.
By 1970, Green's life changed drastically, as he began severely loathing the fame and money he had made with Fleetwood Mac. During that time, Green became increasingly religious, and he eventually suffered a mental breakdown (reportedly initiated from a now-infamous incident where he disappeared for three days and subsequently overdosed on acid at a castle in Munich). Sometime after that incident, he claimed to have had a vision of an angel holding a starving Biafran child in her arms, and the vision inspired him to give his life to charity work.
To this day, outside of the U.K., Green has rarely received acclaim for his music on the level that Eric Clapton has—perhaps an outcome that would've never happened if Green would have been able to slow down the ascent of his career and develop a more harmonious way of existing as an artist and humanitarian.
Thankfully, over the past several decades since leaving Fleetwood Mac, the genius and prowess of Green's singing and guitar playing has developed a cult following that has slowly been earning him a rightful place among the world's greatest electric blues players. My hope and suggestion for anyone who cares about the history of blues and rock is: Take your time, and give a good listen to all the historic live recordings available out there. A key thing anyone is sure to discover is that Green never improvised the same solo twice. Peter Green's music is really a thing of beauty and joy, and his legacy stands monumental, otherworldy, and transcendent. But don't take my word—just listen to the music.
"All Over Again/Got a Mind to Give Up Living"
"Jumping at Shadows"
"Green Manalishi"  
"So Many Roads"  
"If You Let me Love You"